All SMCA members of Musica, St. Maries Children Chorus and St. Maries Singers have cards to sell.
Easyfundraisingcards.com made this possible.
Here are the local businesses supporting SMCA for 2020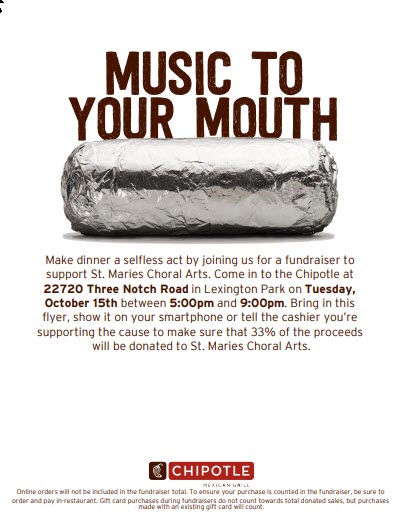 Chipotle - SMCA Fundraiser
Join us for dinner at Lexington Park Chipotle Tuesday, October 15, 2019 5pm - 9-pm. Mention SMCA or show this flyer to the cashier and 33% will be donated to St. Maries Choral Arts. Thanks for helping us out! See you there!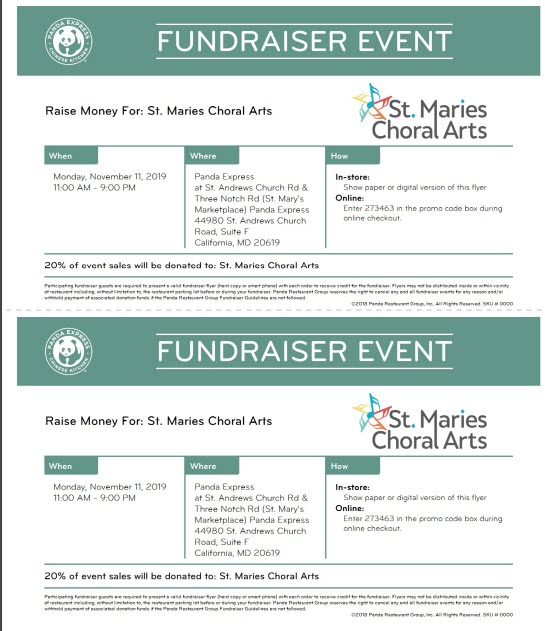 Panda Express & SMCA fundraiser
On November 11, 2019, Panda Express in California, MD will donate 20% of all sales made between 11am - 9pm to St. Maries Choral Arts if you show this flyer when ordering. Please support St. Maries Choral Arts and have a tasty meal at the same time. See you there!